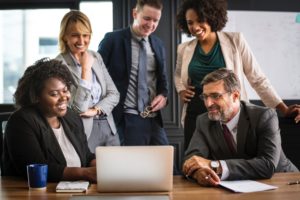 Along with a solid business plan and a talented team, communication is the cornerstone to a strong business. Managing your message is one thing when it's in your native language, but what happens when you need to make a sales pitch or train a team member in another language? Hiring a highly qualified translation company for your business translation services is a smart way to outsource a critical task while you work on growing your business. Learn how ABS Translations can help.
What Sets ABS Translations Apart
For more than 20 years, ABS Translations has been helping clients communicate all over the world. Our highly-qualified linguists are able to translate more than 100 languages. In addition to our language expertise, our diverse team also possesses subject matter expertise in legal, medical and many technical fields. This expertise allows us to deliver accurate and nuanced translations, no matter the topic.
Our Business Translation Services
Corporate Communications.

Communicate clearly

 with your team, media outlets and your customers no matter the language.
Presentations. No matter the format or audience, we can accurately translate your presentations while maintaining the original tone.
Human Resource – Employee Handbooks. Make international onboarding easier with clear and concise handbooks and hiring paperwork.
Contracts & Agreements, Ethics & Compliance. We have legal experts on our translation team who know the nuances of legalese in addition to your target and source languages.
Annual Reports. Whether you need to communicate your company's activities to shareholders or staff, we can expertly translate and format your report.
Brochures. Don't let your marketing

message

get lost in an unprofessional translation.
Websites. As a place of first impressions, your website content deserves the highest level of accuracy in translation.
Interpretation. We can provide a single interpreter for a business meeting or a team for any size conference.
Customer Service
We're proud to offer all corporate clients unmatched convenience and seamless project management. A Senior Level Project Manager is assigned to each account as a single point of contact, making it easy to ask questions or check the status of an assignment.
For Business Translation Services, Hire ABS Translations
To get unparalleled business translation services for your company, reach out to ABS Translations. Give our team a call at 215-233-3000 or email us for more information.