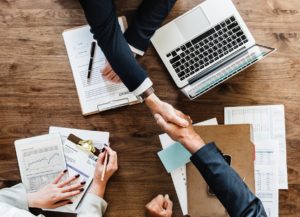 Whether you require corporate translation services for your internal or external communications, you know that accuracy matters. Your message, when properly delivered, signals strength and trust to your employees and prospective clients. At ABS Translations, our corporate clients rest easy knowing that our vast network of highly-qualified linguists is able to handle all of their translation and interpretation needs in a timely and accurate manner.
What to Look for in a Translation Company
If you're looking for a company to entrust with your corporate translation services, it's important to know what to look for, as corporate translations require a special set of skills. First, the translation company you choose should have a team that possesses subject matter expertise. This expertise will ensure that no matter the material, accuracy in both content and tone will be achieved in every translation. Beyond knowledge and skill, your translation company of choice should also have the ability to scale workload seamlessly and turn around work on time.
ABS's Internal Corporate Translation Services
Human Resources documents including:
Employee Handbooks
Hiring documents
Ethics and Compliance
Corporate Communications
Internal websites and Intranets
Contracts and agreements
ABS's External Corporate Translation Services
Presentations
Annual Reports
Brochures
Websites
Contracts and Agreements
Additional Services
ABS Translation is also proud to offer interpretation for a wide variety of legal, medical and personal assignments. Whether it's a one-on-one meeting or a large conference, our team can be on-site and ready to get your message across. ABS also offers video and audio transcription, subtitling and voiceover services.
The Added Convenience of Working with ABS
ABS Translation offers unparalleled convenience to our corporate clients as we assign a Senior Level Project Manager to be the single point of contact for your team. This person will be able to answer any questions you have, update you on the status of projects and accurately estimate the time required for any job.
For Corporate Translation Services, Hire ABS
If you're looking for a partner to make translations a seamless part of your business, hire ABS Translations. With more than a decade of experience in corporate translation services and a vast network of linguists standing by to help, we're ready to get started right away. Give us a call at 215-233-3000 or email us today!